🧾 Overview
The APEC Reverse Osmosis Drinking Water Filter System (ESSENCE ROES-PH75) is a 6-stage water filtration treatment that combines a semi-permeable membrane with numerous filters to remove up to 99% of total dissolved solids from drinking water. This filtration system comes with all parts and a thorough instruction manual for DIY assembly.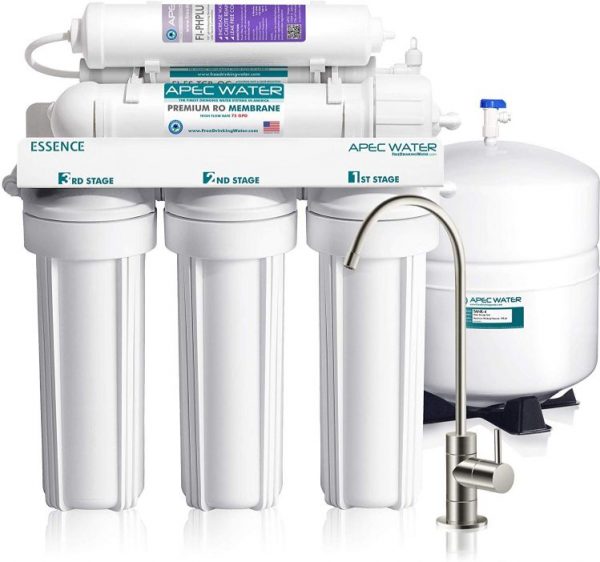 💡 Features
With five total filters and a semi-permeable membrane, the APEC Reverse Osmosis Drinking Water Filter System (ESSENCE ROES-PH75) offers an effective water filtration solution for home or office, to produce the cleanest, purest water without losing the alkaline taste. The key features of the APEC ESSENCE ROES-PH75 include:
Lead-free designer faucet
There's no need to fuss about finding a faucet to match with this RO system, as its lead-free designer faucet is included in the full cost of the unit. The faucet is a standard non-air gap for the simplest installation process, and can be fitted easily in most sinks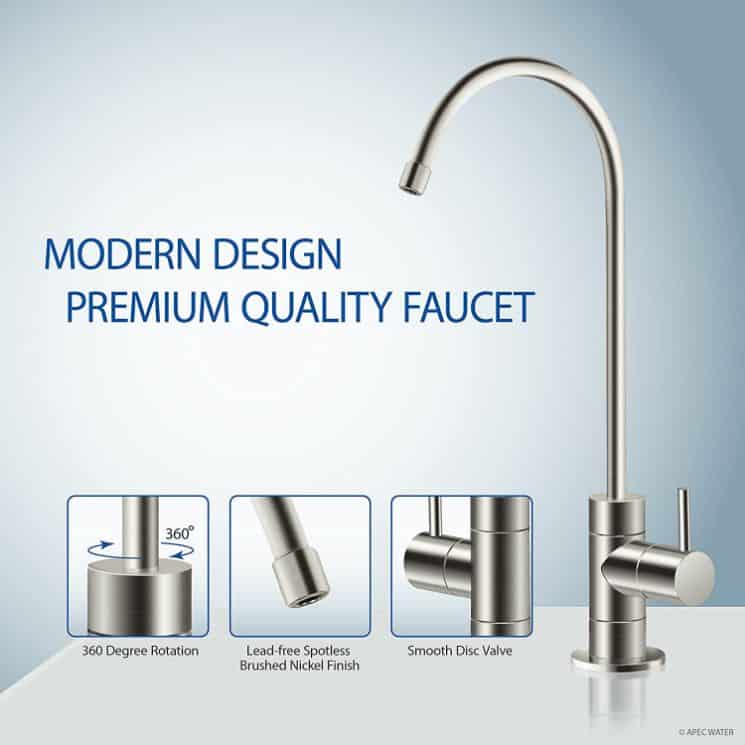 Water storage tank
This system comes with a 4 gallon pressurized water storage tank for holding water before it reaches the faucet for drinking. The storage tank automatically refills with water when water is used, keeping it consistently full and ready for use.
Polypropylene sediment filter
The filtration system's pre-stage filter is a high-capacity polypropylene sediment device for removing larger particles like sand, dust and dirt from water. This protects the life of the system, removing the particles that might otherwise cause damage to membranes and filters.
Double carbon block filters
The double carbon block filters in this reverse osmosis system effectively remove unpleasant tastes, odors, cloudiness and colors from chlorine and other common chemicals. With a uniquely large carbon block surface, these filters maximize contact time for removal of up to 99.99% of chlorine chemicals from water.
Semi-permeable RO membrane
At the heart of the RO system is the high rejection semi-permeable reverse osmosis membrane. Designed to remove up to 99% of total dissolved solids from water, the membrane completely decontaminates water, eliminating lead, arsenic, bacteria, viruses and much more.
Advanced carbon filter
The last filter for water to pass through in this system is the advanced coconut shell carbon refining filter. This filter is positioned between the storage tank and the faucet, and removes any potential odors or tastes that water may have picked up while in the storage tank.
Alkaline re-mineralizing calcium filter
As calcium is naturally removed from water during the reverse osmosis process, this RO unit contains an alkaline re-mineralizing calcium filter that re-introduces calcium to the water prior to reaching the tank. This gives water a more alkaline taste that is preferable to many people, but the filter is an option add-on, and can be removed if desired.
Quick-connect tubing and connections
For the simplest installation process, the water filtration unit comes with a number of quick-connect tubing and connections, and high strength membrane housing wrenches. The FDA Certified JG Food grade tubing ensures water is clean and contaminant-free, and all fittings are high-quality and leak free for maximum durability and efficiency.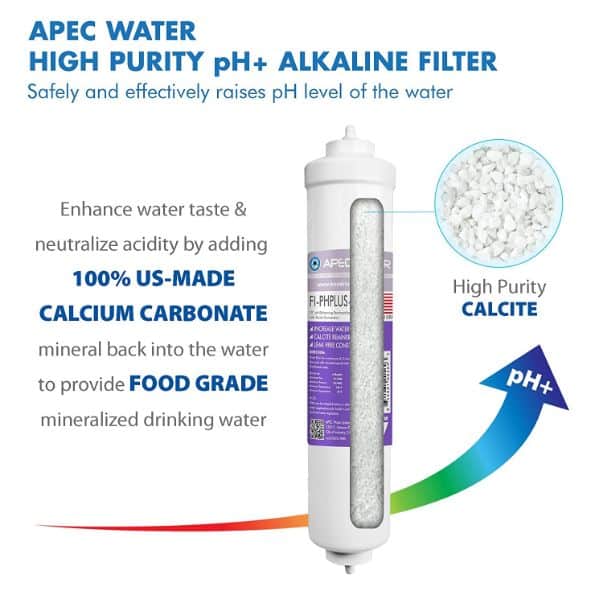 🚦 Performance
With 6 stages of water filtration, the APEC ROES-PH75 system offers one of the most thorough reverse osmosis water treatment solutions available.
The system has a has a feed water pressure of between 40 and 85 PSI, which can be improved with a booster pump if necessary. A pressure of 60 PSI in this system will produce water at a 1:3 water ratio, meaning that for every 1 gallon of water produced, 3 gallons is lost down the drain. This is slightly more efficient than the standard RO water ratio of 1:4.
🔧 Installation & Maintenance
Thanks to its easy-follow step-by-step instruction manual, the APEC ESSENCE ROES-PH75 is easy for a user to install without the need for a plumber. Regular cleaning and maintenance is also fairly simple for the average user to accomplish. Filters and membranes are not difficult to change, and cleaning the system is a matter of following instructions to take the system apart and sanitize as required.
📝 Filter Info
The APEC ROES-PH75 contains 5 filters in total – a polypropylene sediment filter, 2 carbon block filters, a coconut shell refining carbon filter, and an alkaline re-mineralizing calcium filter. The unit also contains a reverse osmosis membrane.
The sediment filter and carbon block filters will need replacing after a maximum of 12 months of use to keep this reverse osmosis system running efficiently. The reverse osmosis membrane will last between 2 and 3 years before it needs changing, and the refining carbon filter will also last for 2 to 3 years. The alkaline filter lasts between 6 months and a year. Filters are easy to find and cost between $30 and $70 per filter.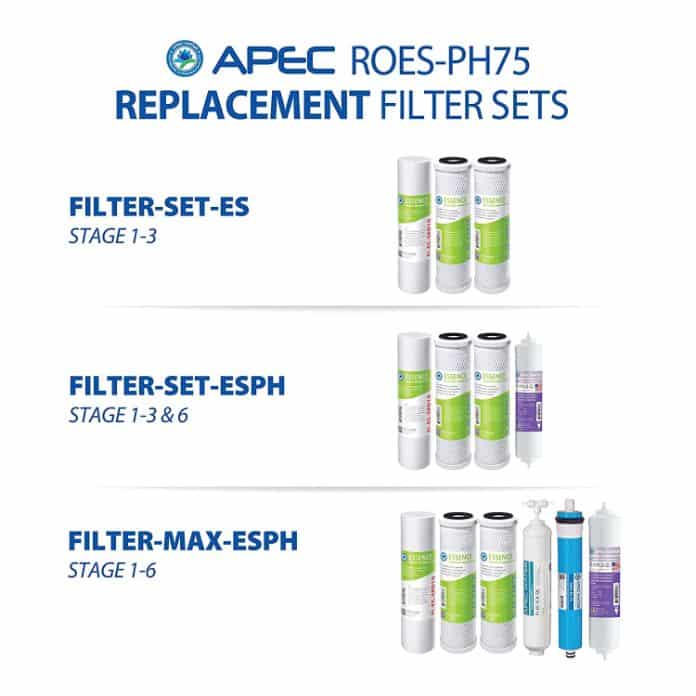 🔔 Pros & Cons
Pros:
Simple installation that can be carried out at home by the user. Instructions are thorough and easy-read, making it easy for even a DIY novice to successfully install the system.
Manufactured in the US, with US parts and FDA certified food grade tubing for guaranteed safety and supreme quality.
Additional alkaline filter to add high-purity calcium carbonate back into water after the reverse osmosis process, to raise the pH in the water and produce a more enjoyable taste.
Easy to connect to refrigerator water dispensers and ice machines for additional convenience.
Cons:
Water pressure may be as low as 40 PSI, depending on water type and temperature, which may result in more water wastage and less efficient reverse osmosis. If you notice the pressure of the RO system is below 60 PSI, purchase a booster pump to improve efficiency.
Non-air gap faucet, which may be an issue for some users who would prefer an air gap faucet to prevent backflow of water. This can be resolved by purchasing a separate air gap faucet that can be connected to this reverse osmosis system.
Read our other APEC reviews:
Found this review helpful?
Comment below or share this article!