🧾 Overview
The APEC Water Systems RO-90 Ultimate Series Top Tier is a highly efficient water filtration system that provides safe, contaminant-free drinking water. As one of the most durable reverse osmosis systems in the industry, this system saves money, time and hassle of buying expensive bottled water, and produces cleaner, more thoroughly filtered water than shop-bought alternatives.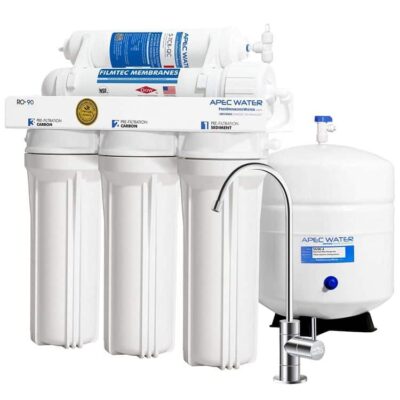 💡 Features
Boasting a 5 stage water filtration process, the APEC Water Systems RO-90 comes with all of its features ready for installation and use, including:
Water storage tank
The unit's 4 gallon pre-pressurized water storage tank is ideal for storing large quantities of water that has been filtered in the reverse osmosis process. The tank minimises water wastage by signalling to the RO unit when it is full, and refills at a constant rate when water is used.
Lead-free faucet
This RO system comes with its own lead-free faucet that connects seamlessly to the RO unit. Made from high-quality chrome, the faucet is non-air gap for quick and simple installation, and is designed with durability in mind.
Tubing and quick connect fittings
The connective tubing and fittings for this reverse osmosis unit are provided for simple connection and installation, reducing the risk of leaks and other maintenance issues. High strength housing wenches are also included to optimize the installation process.
Sediment filter
The pre-stage high-capacity polypropylene sediment filter is an essential element of this reverse osmosis system. The filter removes larger particles, like sand, dirt and rust, from the water, which could potentially block or damage the RO unit's other filters and semi-permeable membrane.
Two carbon blocks
The system has two premium extruded carbon blocks for removing chlorine and other common chemicals that might give the water an unpleasant taste, smell or appearance. Multiple filters enable a more thorough elimination process.
High rejection TFC reverse osmosis membrane
As the most important feature of this RO unit, the high rejection TFC semi-permeable membrane is necessary for the actual reverse osmosis process. Designed at the highest industry quality, the RO membrane can remove up to 99% of total dissolved solids from water, including contaminants like lead, arsenic and pollutants.
Refining carbon filter
Between the water tank and the faucet sits the refining carbon filter, which removes any odors or tastes that might have been added to the water during its time in the holding tank. The refining carbon filter gives water one final clean before it reaches the faucet for drinking.
🚦 Performance
The APEC RO-90 consists of five different filtration stages, including the reverse osmosis process itself, for the most comprehensive and effective water purifying. The reverse osmosis process removes up to 99% of total dissolved solids from water, while the filtration stages eliminate the larger particles and chemical contaminants.
The ratio of filtered water to wasted water in the APEC RO-90 is 1:3, meaning that for every 1 gallon of water that is filtered, 3 gallons are wasted. The higher the pressure inside the unit, the faster the tank will take to fill, and the less water is wasted. This system can operate at between 40 and 85 PSI, but it's recommended that your unit pressure measures at at least 60 PSI for minimum water wastage. You can purchase a pump booster to improve pressure if necessary.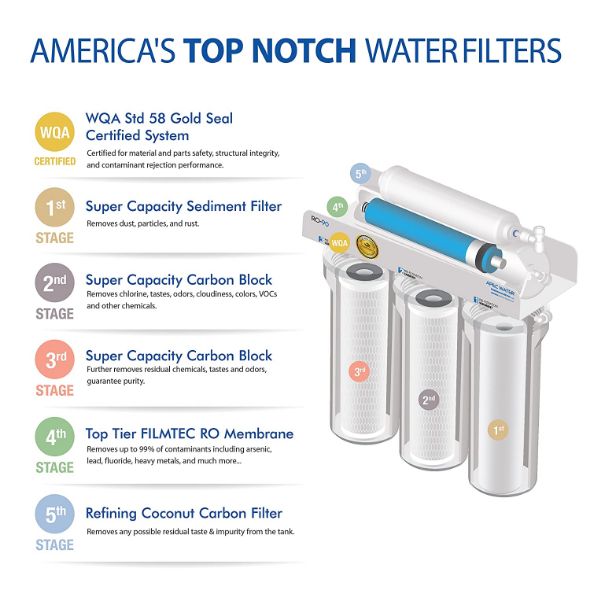 🔧 Installation & Maintenance
The APEC Water Systems RO-90 Ultimate Series Top Tier requires basic installation that won't need a licenced plumber. Simple step-by-step instructions make it possible for anyone to install the system, providing they have basic hand-tool skills and the essential equipment for the job. The product's instructions provide information of the tools that are needed for the job, and wrenches are provided to make the installation process simpler.
Replacing parts and cleaning the APEC Water Systems RO-90 Ultimate Series Top Tier is also a fairly simple task. Membranes and filters do not require cleaning, but the housing units and tank can be sanitized as per the product's instructions. The tank and housing units won't need replacing providing they're looked after and cleaned on a once-yearly basis.
📝 Filter Info
There are a total of 4 filters and 1 reverse osmosis membrane in this reverse osmosis system:
The first stage sediment filter,
The 2 carbon block filters,
The semi-permeable RO membrane
The refining carbon filter.
Filters need to be replaced every 1 to 2 years, and the membrane will require replacing after 2 to 3 years. Replacement parts are easy to find and replacing all filters costs just over $100.
Again, replacing filters won't require an expert – it's a simple task of unscrewing the filter housing, removing the old filter and replacing it with a new, then re-screwing the housing back in place.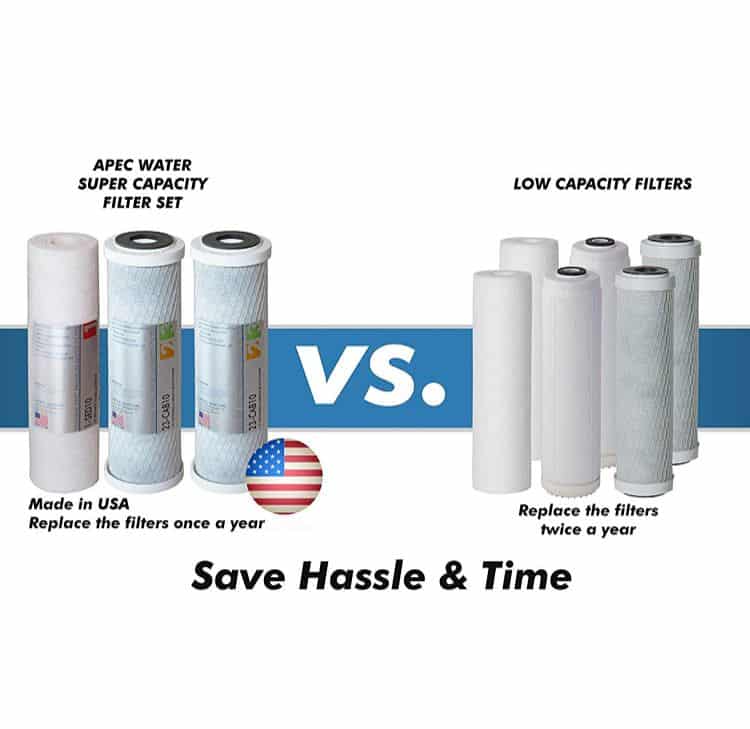 🔔 Pros & Cons
Pros:
Simple installation that does not require an expert. Color-coding and easy-read instructions make it possible for all users to install this RO unit with little hassle, saving out on money that would have to be spent on professional installation.
Fairly low-cost maintenance that doesn't require the help of an expert. Filters are relatively cheap and can be purchased from a number of trusted sources in-store or online.
Cost-friendly and a more meticulous alternative to purchasing filtered bottled water or using other water filtration processes.
Produces safe, great-tasting water, with the system's 5 stage filtration providing comprehensive removal of all contaminates that might affect water odor, smell or appearance.
Cons:
May require additional plumber fees if you would rather hand the installation process over to an expert, or if you're after installation in a trickier location.
May be required to purchase a booster pump to minimize water wastage if your unit's pressure is below 40 PSI.
Does not include a remineralization filter, which some users might prefer for giving water a slightly more alkaline taste. Remineralization filters can be attached to this RO system but would need to be purchased at an additional cost.
Read our other APEC reviews:
Found this review helpful?
Comment below or share this article!